We had a wonderful day with the Fantastic Fred Experience – where we learnt: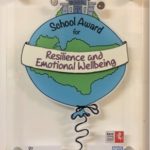 We are delighted to have been awarded the Kent Award for Resilience and Emotional Wellbeing. This is a brilliant recognition of all the work that everyone does. A special thanks to the wellbeing team, who put together the action plan and submitted the evidence to achieve the award.
In the email sent to the school:
"Having considered your award application with our moderation panel, I am delighted to say that you presented a very detailed application form identifying the wonderful practice that is currently taking place at Teynham Parochial CE School around emotional health and wellbeing. Reading your application form and supporting evidence, I was particularly struck by how strong and supportive the ethos and environment is running throughout the school to support the emotional health and wellbeing of pupils, staff and parents. As a primary school teacher myself, I recognise that creating this kind of environment isn't easy, but the rewards for all, are huge!"
On Tuesday 1st March Peter Norton presented the award to the school.